Back Home
About Steve
Combining a passion for fine architecture and a commitment to the preservation movement, Steve Haussler has been selling homes in and around Pasadena for over 30 years. A 45-year resident of Altadena, Steve knows the importance of understanding both the neighborhood and community in which you live.
Steve has the experience and market savvy to guide you to sound decisions throughout the process of buying or selling your home. His innovative marketing techniques and use of the latest technology will make your home sale a success; and when you're looking for a home, his thorough knowledge of the local market will help you find the right place – and the process will be easier and saner than you expect.
Working with a great housing stock and with clients who enjoy architecture, Steve wins awards and praise, both for his service and his knowledge of the full range of architectural styles and periods the San Gabriel Valley offers. A recipient of numerous awards for his sales expertise, including 1995 Realtor of the Year, he is currently a member of the distinguished Coldwell Banker International President's Elite (an award given to the top 2% of all agents nationwide).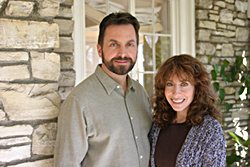 Steve's entrepreneurial spirit and deep ties to the community have led to a career as one of the most respected real estate professionals in the area. By blending his strong connection to the community, extensive background in business and his passion for making a difference, Steve has earned a reputation for helping his clients achieve their dreams. He is known for going "above and beyond" for his clients, providing them with the personalized service, professional expertise and guidance they seek.
Recently, Steve's wife Lisa entered the real estate profession. With an MBA from Duke University, and an extensive background in advertising, banking, sales and consulting, Lisa combines forces with Steve to offer clients an even higher level of service and cutting-edge marketing techniques.
Steve works with local preservation groups to define and defend the neighborhood character and community history. A frequent volunteer for Pasadena Heritage, Steve also sits on the Board of the Friends of the Gamble House and is a former Chairman of Altadena Heritage. He is also an active member of the Altadena Land Use Committee, the advisory group on land use issues to the Altadena Town Council.
"Preservation is not just about old houses and museums – it is truly about neighborhoods and communities. Maintaining some continuity in our built environment can help to provide a sense of stability while so much else changes around us." Steve Haussler
No matter what your real estate needs, let Steve bring his knowledge to work for you.